Setlist Blog #10 - Sonny McLean's Irish Pub - Thursday, May 18, 2012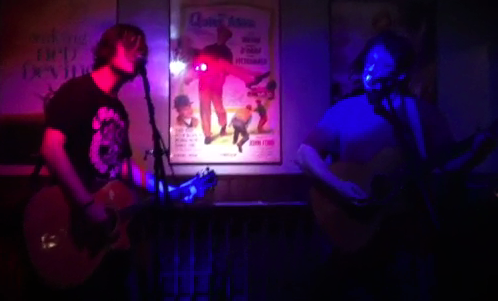 Assuming you have enough material polished up (which can be a big assumption), it's a true blessing when the guy playing after you does not show up and you get to do a double set.  It's also a blessing to be surrounded by friends, both on stage and off.  For approximately two hours this past thursday everything seemed to be in balance at Sonny McLean's - I had the chance to try out a few new covers I'm been foaming at the mouth over and play some old favorites with two great friends and great musicians, Anthony Mancini and Jeff Cleveland.  Sonny's vibe is very comfortable and the people there are the best.  Here's the rundown from a fun, if not a bit indulgent night on stage:
Thursday, May 18, 2012 - Sonny McLean's Irish Pub
1. "Clap Hands" - Tom Waits (featuring Jeff Cleveland)
2. "I Was in the House When the House Burned Down" - Warren Zevon (Life'll Kill Ya - 2000)
If you don't know about Warren Zevon, man you are missing out.  Life'll Kill Ya is a as good a starting point as any.  I also just watched the VH1 documentary about the final months of his life, which was pretty moving.  It's all about the songs though with Zevon - Dive in my friends, you won't be disappointed.  
3. "Dreams Dissolve in Tears" - Jules Shear (The Great Puzzle - 1992)
I love this song so much it's not even hard for me to see through the… ineresting… duet version heard in the video below, made even more horrilbly awesome by the uber-literal slideshow video (is that a picture of salt actually dissolving in water? Yes, yes it is.  Wait, is that another youtube video next to it that employs the exact same "idea"? Yes again).  Under it all, this is a masterfully written tune with a devastating punchline.  Jules writes as well as anyone. Period.
4. "Sweetheart Like You" - Bob Dylan (Infidels - 1983)
Infidels is a hidden gem in Dylan's colossal catalog.  I don't hear many people talk about this album, but there are so many great songs on it from "Jokerman" to "Don't Fall Apart on Me Tonight."  Like most Dylan material i've known for a long time, my sister was the one that opened my ears to this album.  I could sit on the edge of my bed and play "Sweetheart Like You" for hours.  I guess that's just Dylan's ability to captivate…  
If you're reading this and you live in Los Angeles, there is a Bob Dylan tribute show on Wednesday, May 23 at Brennan's Pub - all Dylan all night long.  I'll be there, so should you!
5. "Why Don't You Do Right?" - Peggy Lee/Jessica Rabbit (featuring Anthony Mancini)
Found out recently that my buddy Marc loves this song, who knew.  This was the first time Ant and I played it together and I probably won't be attempting it without him again.  Read more about it in Setlist Blog #9
6. "Boom Boom Mancini" - Warren Zevon (featuring Anthony Mancini)
The parallels of this song are scary, but Anthony really makes my version worth listening to. Get the whole story from the first time we played it together in Setlist Blog #4 
7. Blues Jam in G (featuring Anthony Mancini)
I like to record my shows, and listening back to this solo-trading jam it's pretty easy to tell which guitar is Anthony's at every single moment - his is always the one that sounds better.  
8. "The Benefit of Doubt" - original (featuring Jeff Cleveland)
9. "Merritville" - The Dream Syndicate (featuring Jeff Cleveland)
10. "Valentine" - The Holy Cows (Blueberrie - 1997) (featuring Jeff Cleveland)
I am obsessed.  Completely obsessed.  Way back in December of 2011 I was out christmas shopping with my sister, which means going to thrift stores in Albuquerque, New Mexico on christmas eve looking for random trinkets that our loved ones didn't even know they desperately needed.  We purchased this Holy Cows CD (maybe the only copy in the state of NM) for a buck because the cover looked intriguing, rescuing it from the depths of obscurity to be forgotten forever.  Sadly, in the hoopla of the holidays, the disc got left behind and mixed into my dad's collection, possibly to be forgotten forever, again.
Alas, I returned to Albuquerque earlier for my only sister's lovely wedding and sitting there on my dad's counter smushed between Ry Cooder's Paradise and Lunch and Taj Mahal's Satisfied & Tickled Too (two albums with stories all their own) was the Holy Cows CD.  This time I wouldn't let it get away.  I've been wearing out this disc for a week and learned the bookend tracks for this show just the night before.  As the closing track "Valentine" grabbed me from the first line - a delicate melody and simple progression. Sad but aware, it points a finger without shaking it or shouting.  I would be a lucky man to ever write a song 10% as good as this, and the Holy Cows seem to have done it effortlessly (for a few years back in the mid 90's at least).  I wonder where they are now.   
11. "Just LIke Tom Thumb's Blues" - Bob Dylan (featuring Jeff Cleveland)
12. "Bite Frost" - written by Jeff Cleveland (featuring Jeff Cleveland)
13. "Cigarette" - original (featuring Jeff Cleveland)
14. "Look Out For Me If You Can" - written by Jeff Cleveland (featuring Jeff Cleveland)
Jeff and I have only done this tune live a couple times before, but it blares the truth of life:  there are only two places you can be - over here, or over there.  i'm paraphrasing of course, but it is definitely the truth.
15. "Same Boat Rocks" - written by Jeff Cleveland (featuring Jeff Cleveland)
16. "Spanish Pipedream" - John Prine (featuring Jeff Cleveland)
17. "It Makes No Difference" - The Band (featuring Jeff Cleveland)
18. "Punched A Friend" - The Holy Cows (Blueberrie - 1997)
The first song on the same album I lauded earlier.  Cinderella story, came outta nowhere - I plan on spending my next free day scouring Los Angeles for this band's first album Get Along, and then probably giving up and ordering it on Amazon.com…  This song poses, "Have you ever poured your heart into a mediocre end?"  wow. yes.
19. "Wouldn't You Think (She Would've Been Here By Now)" - Delbert McClinton (Aquired Taste - 2009)
One of my favorite songwriters - Delbert's style is unmistakable.  My favorite personal Delbert story involved driving around listening to country radio and new pop/country hearing a tune that had something unmistakenly Delbert in it. Sure enough, not only was it penned by him, but it hadn't been recorded or released by him.  It's rare that someone is recognizable by writing style alone.  "Wouldn't you think…" is a heartbreaking tale that hurts even more if you think too much about it - which is not only how the song started in the first place, but also the crushing eventuality of the sentiment.  Wow, thinking too much right now… what a tune.  Worth way more than the 99 cents here.
20. "Sleep of the Just" - Elvis Costello (King of America - 1986)
It's hard to find a better melody on planet earth than the chorus to this closing track of Elvis' folk masterpiece:  
21. "Things Have Changed" - Bob Dylan (Wonderboys Soundtrack - 2000)
They sure have…
As the Razorface project has grown and morphed in the past year.  Over the course of the 33 shows and about 100 different songs I've become totally addicted to the process and turned my focus toward playing live shows more often and, well, better.  Writing about that process has provided therapy and inspiration beyond anticipation.  As this project enters it's second year, I enter my 30s, and we enter the summer, I'm going to focus my efforts into writing a more personal, long-form account of the shows I play for and hope to be playing for years to come. Perhaps the immediacy of blogging is less creatively appealing to me than the connectivity of a larger collection of writings that have had some time to congeal into a unified story.  Perhaps all of that is hot air - either way, I thank you for listening, reading and supporting live music my friends!
All upcoming shows:
Tuesday, May 22 - Ocelot Robot at DiPiazza's - 9pm
Wednesday, May 23 - Razorface at Brennan's Pub - Bob Dylan Tribute Show, 8pm
Wednesday, May 30 - Dinosaur Tooth at Brennan's Pub, 9pm
Saturday, June 2 - Razorface at M Bird Studios, 10pm 
Monday, June 11 - Ocelot Robot at Club Trip, 9pm
Thursday, July 28 - Ocelot Robot at Good Hurt, 9pm
Thursday, August 23 - Razorface at Good Hurt, 8pm